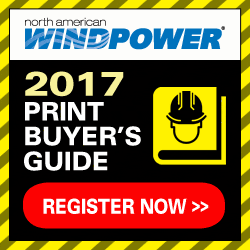 Wind turbines located on wheat and ranch lands have become a source of pride for many rural communities. A trip up the Columbia Gorge and out into eastern Oregon quickly demonstrates that wind energy development has been significant over the last decade. As the region seeks to diversify its energy portfolio, wind energy has proven to be a cost-effective and reliable resource.
Oregon has a strong history of renewable energy development, including hydropower, wind, solar, biomass and geothermal installations across the state. Today, wind energy is a significant resource, boasting 3.2 GW of total installed capacity, which puts Oregon in fifth place for wind power capacity in the U.S. This capacity is the result of more than $7 billion of cumulative investment across 29 projects and is enough to power nearly half of Oregon's total households (approximately 750,000 households annually out of about 1.5 million). Despite these impressive numbers, wind energy still only accounts for 4.3% of Oregon's total fuel mix.
The economic benefits that wind development has brought to Oregon are impressive. Direct construction jobs on wind farm projects tally over 2,000, and 181 permanent on-site positions have been created. All of these jobs exist in rural counties, where they are needed most. While the rest of Oregon's employment numbers struggled through the recession, the four Gorge counties where wind projects are located saw unprecedented double-digit growth. The Oregon Employment Department credits wind energy development as one of the reasons for this. In corporate management positions that are based in Portland and other metro areas, employment numbers are even higher.
Let's not forget the public revenue that wind farms bring to the state as well. Thus far, more than $110 million has been paid to state and local governments via property taxes and strategic investment programs, which fund critical programs like schools and fire departments, as well as infrastructure improvement projects for roads and sewers. Estimated annual land lease payments total $7.5 million.
Gilliam County judge Steve Shaffer said in a recent op-ed to the Oregonian newspaper, "As a county official who shares responsibility for maintaining rural roads, funding social services and ensuring public safety, I assure you this kind of economic development would be welcome anytime. Coming, as it did, during troubled economic times, the investment has been a godsend. Wind energy is generating a brighter future for our communities."
One of the reasons for the impressive investment is the plummeting cost of renewable resources. According to the U.S. Department of Energy, the more capacity that is installed, the lower wind energy prices become per kilowatt-hour.
However, dropping costs are not the only reason for this investment. In addition to production and investment tax credits that encourage development, Oregon is one of 29 states enacting a renewable portfolio standard (RPS). Oregon's RPS, enacted in 2007, requires incremental increases in new renewable resources depending on the size of the utility, culminating in 25% by 2025 for large utilities, 10% for smaller utilities and only 5% for the smallest utilities. Jeff Deyette of the Union of Concerned Scientists stated recently, "Every RPS in the country is successful and bringing economic development benefits to local communities." Furthermore, every utility in Oregon has reported that it is on track to comply with the RPS. Rates, meanwhile, have stayed low, with increases below the rate of inflation.
RPS concerns
Despite the proven success of these policies, nearly every state with an RPS faced attacks in the last legislative session. Luckily, none of the attempts to undermine the intended purpose of the RPS was successful.
Oregon will be facing a new attack that would gut its RPS over the course of the next year. A new ballot measure is currently circulating for signatures that would change Oregon's RPS so that utilities could count existing, large-scale hydroelectric power toward their RPS requirements.
Ironically, the RPS in Oregon already includes hydropower by way of new hydro projects, small-scale hydroelectric dams and efficiency upgrades at existing turbines. Because of the amount of hydropower on Oregon's system, this ballot measure – should it pass – could potentially end renewable energy development in the state.
A few factors have slowed development of new wind facilities in Oregon. While utility Portland General Electric is moving forward with a new wind farm across the river in Washington, the Oregon utilities are already reaching their RPS requirements through banked renewable energy credits and new procurements. Another issue is the price of natural gas – which has stayed at historically low levels longer than anticipated – slowing growth for renewables.
The good news is that this relative lull in wind development in Oregon is temporary. Natural gas prices are highly volatile and unlikely to stay at current prices for much longer. And even if they do stay low, renewable energy price forecasts predict that renewables will be cost competitive with natural gas by 2025. We probably won't have to wait that long. In fact, in some states in the West, wind power is already cost competitive with natural gas.
Other factors on the horizon that will invigorate the wind industry in Oregon include the closure of coal plants across the region, which presents new opportunity for replacement power. Another area for market growth includes new large loads being added to the system as a result of new data centers and other large customers. President Barack Obama's new directives on climate action will also spur increased investment in renewable energy resources as the nation continues to transition away from fossil fuel resources to clean and affordable alternatives. The potential of carbon policy in Oregon continues to gain momentum. And concerns about wildlife impacts on sage grouse are actively being addressed by a diverse set of stakeholders who want to see Oregon reach its clean energy goals.
This is good news for residents of Oregon, who time and time again have proven they want access to more renewable resources for their electricity needs. Seventy-one percent of all Americans say they want more wind power. One needs only to look at the increasing number of customers in the voluntary green power market to see that Oregonians are eager to support renewable power: Participation in utility green power programs in the region has increased by 13.1% since 2010. Commercial and industrial demand for green power has increased by 17.8%.
Year after year, northwest utility customers continue to demand clean energy for the region. And wind, as part of a diverse portfolio, can provide that power. w
Spotlight
What Is Oregon's Long-Term Outlook?
By Amy Baird
An attempt to weaken the state's renewable portfolio standard will alter the pace of wind development if the measure is passed.
NAW_body hyperlink dept_byline NAW_body_i NAW_body_bi NAW_body_b_i NAW_body_b
NAW_first_graph
NAW_depbio
NAW_sub
NAW_last_graph
NAW_SH
NAW_SH_no_rule
NAW_SH norule
NAW_SH_norule
NAW_SH_first_item
pullquote
sidebar_headline