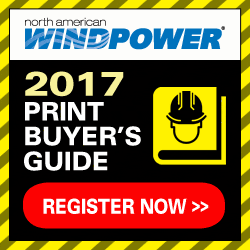 Deepwater Focuses On Completing R.I. Demo Project
Jeff Grybowski, Deepwater Wind's CEO, says the offshore wind developer has moved well beyond the early stages of development and is now squarely focusing on completing the 30 MW Block Island Wind Farm, located off the coast of Block Island, R.I.
"We see a clear path to finalizing the contracts to start building the project," notes Grybowski, who sat down with NAW during the American Wind Energy Association's (AWEA) Offshore Windpower 2013 Conference & Exhibition, recently held in Providence, R.I. "Right now, we're in execution mode."
He says construction activities will begin in late 2014, beginning with the "transmission piece of the project," which includes a 21-mile, medium-voltage submarine cable connecting the offshore wind farm to the mainland. Although details have yet to be finalized, Deepwater says the subcable will make landfall in Narragansett, R.I.
The jacket foundations will begin arriving in spring 2015, with Siemens delivering five 6 MW direct-drive turbines that summer, with grid completion expected in the fall. That time frame would make Deepwater's Block Island Wind Farm among the first, if not the first, offshore wind farm in the U.S.
National Grid has agreed to buy the project's output, making Deepwater one of two U.S. offshore wind developers to secure a power purchase agreement. (Cape Wind Associates has two contracts to sell 77.5% of the output generated by its planned 468 MW project.)
With the focus on project completion, Grybowski says the company's top priority is ensuring that Deepwater is able to satisfy the 5% safe-harbor provision to qualify for the investment tax credit. Among other requirements, developers must incur 5% of the project's cost by Dec. 31 to be eligible for the tax incentive.
To satisfy the U.S. Treasury's 5% spend threshold, Deepwater plans to use a combination of "historical expenditures" and contracts signed with vendors until the end of this year.
Declining to delve into specifics, Grybowski notes such expenses could include turbine components, installation vessels or other components related to construction.
Because the Treasury approves (or rejects) applications after the project is completed, Deepwater will leave nothing to interpretation, Grybowski says, indicating the company will spend well in excess of the 5% threshold. Deepwater has already spent more than $30 million developing the Block Island site.
"You don't want to get to the end of the project and learn that Treasury says you only spent 4.8 percent [of the project's total cost]," he notes, "because then you'll get nothing."
While its focus is on completing the Block Island project, Deepwater is already working toward advancing the Deepwater Wind Energy Center (DWEC), a proposed 1 GW-scale offshore wind farm located in federal waters.
The project is planned for the lease block awarded to Deepwater as part of the Bureau of Ocean Energy Management's Rhode Island/Massachusetts auction. On July 31, Deepwater bid $3.8 million for two parcels totaling 164,000 acres in a designated Wind Energy Area on the Outer Continental Shelf.
Grybowski says the DWEC's 200 or so turbines will be located 20 to 25 miles from land.
Although the 1 GW-scale project is clearly more ambitious than the Block Island demonstration project, Grybowski is encouraged that much of the heavy lifting associated with spatial marine planning and site evaluation has already been completed by the Rhode Island Coastal Resources Management Council (CRMC).
The CRMC's work on the Rhode Island Ocean Special Area Management Plan – ostensibly a zoning plan for the ocean – provides not only a means for protecting the marine environment, but also a framework for policy development. The CRMC-led project provides Deepwater a three- to five-year scheduling headstart. "That's a big advantage," he says.
Further, Grybowski explains, the same agencies – in some cases, the same people – that approved Deepwater's Block Island demonstration project are charged with vetting the DWEC.
"However, we still need a permit for that site," he notes. "But we're highly confident we can get it done." – Mark Del Franco
DOE Updates
Offshore Wind Data
Eleven offshore wind projects representing 3,824 MW of capacity are currently in an advanced stage of development in the U.S., according to a new report released by the U.S. Department of Energy (DOE). These projects, the DOE explains, have at least signed a power purchase agreement, received approval for an interim or commercial lease in state or federal waters, or conducted baseline or geophysical studies at the proposed site.
And that's just one key finding from this year's U.S. Offshore Wind Market and Economic Analysis, which was authored by the Navigant Consortium for the DOE. Additionally, the report notes global trends in the offshore wind space.
The new study builds on an analysis from last year, and the DOE says it plans to update and publish one annually for a three-year period, providing stakeholders with a reliable and consistent data source. Over time, the DOE adds, the report could help create a road map for accelerating development and increasing U.S. competitiveness in the offshore wind market.
According to the DOE, other highlights of the 2013 report include the following:
The average turbine size for advanced-stage, planned projects in the U.S. is expected to range between 4 MW and 5 MW, which is larger than turbines being used in land-based applications.
The main challenges faced by U.S. offshore wind developers are cost-competitiveness, a lack of infrastructure such as offshore transmission and purpose-built ports and vessels, and uncertain and lengthy regulatory processes.
Transmission infrastructure projects that saw progress in 2013 included the Atlantic Wind Connection and the New Jersey Energy Link.
Globally, offshore wind development continues to move farther from shore into increasingly deeper waters; parallel increases in turbine sizes and hub heights are contributing to higher efficiencies (capacity factors).
Developers continue to test a variety of platform and foundation types as the industry seeks to address deeper waters, varying seabed conditions, increasing turbine sizes, and the increased severity of wind and wave loading at offshore wind projects.
NRG To Purchase
EME's Assets
NRG Energy Inc. has announced plans to buy most of bankrupt independent power producer Edison Mission Energy's (EME) assets for more than $2.6 billion.
Under the deal, NRG will acquire EME's diverse generation portfolio, which consists of nearly 8 GW of capacity located throughout the U.S. In fact, NRG says EME's 1.7 GW of wind power will nearly quadruple its existing wind generation capacity.
"Edison Mission Energy is a great fit with NRG, as virtually 100 percent of their assets, their particular expertises and the balance of their technologies deployed complement NRG's own assets, personnel and businesses," says David Crane, president and CEO of NRG Energy.
On Dec. 17, 2012, EME and several of its subsidiaries filed voluntary petitions under Chapter 11 of the U.S. Bankruptcy Code, and EME was deconsolidated from parent company Edison International. (In March 2013, longtime joint-development partner Midwest Wind Energy cited EME's financial troubles as a main reason it chose to sell most of its own portfolio.)
The acquisition and transactions contemplated in the purchase agreement will be consummated as part of an EME Chapter 11 plan, which each of the company's major stakeholders has agreed to support and pursue.
"We are pleased to have reached this agreement with NRG, which maximizes the value of our company for all of our stakeholders and paves the road for our emergence from Chapter 11," comments EME President Pedro Pizarro, adding that all of EME's energy facilities will continue normal operations throughout the process.
In connection with the transaction, NRG says it will assume non-recourse debt of approximately $1.55 billion, of which $273 million is associated with assets designated as non-core assets pursuant to the asset purchase agreement.
NRG expects to close the transaction in the first quarter of 2014. In addition to the approval of the bankruptcy court, the deal is subject to customary closing conditions.
Regulators Approve
Xcel's Wind Plan
Minnesota regulators have approved Xcel Energy's proposal to add 750 MW of wind power capacity on the Upper Midwest grid.
The Minnesota Public Utilities Commission (PUC) signed off on four projects, which represent a 42% increase in the company's wind power capacity in the region. Xcel says consideration by the North Dakota Public Service Commission is expected by the end of the year.
Dave Sparby, president and CEO of Northern States Power Co.-Minnesota, an Xcel Energy company, says, "Wind energy is a clean, low-cost substitute for natural gas and other fuels right now."
"With 1,800 MW of wind on our Upper Midwest system, we already are ahead of meeting state renewable energy targets," Sparby adds. "These four projects – which will provide enough power to serve about 200,000 homes –position us to continue to meet those targets while saving customers more than $225 million over the projects' lives."
The PUC approved the following projects:
Courtenay Wind Farm, a 200 MW project near Jamestown, N.D., under a power purchase agreement (PPA) with Geronimo Energy;
Odell Wind Farm, a 200 MW project near Windom, Minn., also under a PPA with Geronimo Energy;
Pleasant Valley, a 200 MW project near Austin, Minn., submitted by RES America Developments Inc. RES would develop the project and transfer ownership to Xcel Energy. The Pleasant Valley project is adjacent to the Grand Meadow wind project, which Xcel Energy owns; and
Border Winds Project, a 150 MW project located in Rolette County in north central North Dakota, near the Canadian border. RES would also develop and transfer ownership of this project to Xcel Energy.
All four projects are scheduled to be in service by the end of 2015.
Combined with proposals in the company's Colorado and Texas/New Mexico service areas, Xcel Energy says it has proposed adding a total of 1.9 GW of wind resources this year – a 40% increase in company-wide wind capacity.
"Our system is better today because we continue to sensibly invest in a balanced portfolio of cleaner, modern technologies to meet our customers' needs," says Ben Fowke, chairman, president and CEO of Xcel Energy. "These projects demonstrate that we can achieve both environmental and economic benefits for our customers."
SPP Sets, Breaks
Wind Record
Regional transmission organization Southwest Power Pool (SPP) reports that its eight-state market has reached a new wind generation peak – at least its third such record of the year.
On Oct. 8, SPP's market experienced a new wind generation peak of 6,434 MW, and two days later, the record was beaten again and rose to 6,467 MW. According to SPP, the previous market peak was 6,325 MW, set on April 5. The highest wind penetration on Oct. 8 accounted for up to 31.8% of overall market load, just shy of the 33.4% wind penetration record made on April 4.
"As an RTO, we're charged with – among other responsibilities – ensuring a reliable supply of power to customers. Our footprint's load is growing and diverse, especially with regard to wind energy," says SPP spokesperson Tom Kleckner, adding that SPP has about 8 GW of wind capacity and another 27 GW being developed.
Further, Kleckner says that SPP has signed off on over $2 billion in transmission-expansion projects over the past two years, "much of it because of the region's current and potential wind resources." Those potential resources, he explains, include an estimated 60 to 90 GW in Kansas, Oklahoma, New Mexico, Nebraska and the Texas Panhandle.
– Joseph Bebon
Vestas Reveals
Culprit In Collapse
Following a months-long investigation, Vestas has revealed why one of its turbines collapsed at an Irish wind farm on March 22.
The V52 850 kW unit fell to the ground at the 7.7 MW Loughderryduff wind farm, and no one was injured during the incident. The project, located in Donegal, was commissioned in 2010 and developed by Wind Prospect.
According to a company spokesperson, Vestas' investigation has found that an error in the turbine's pitch system during high winds is likely to blame.
"As a result, it appears at least one blade failed to pitch out of the wind, leading to an over-speed situation in which a blade struck the tower. These events caused structural damage and the collapse of the turbine," the spokesperson says.
"The turbine has been cleared from the site and is being replaced. Vestas is implementing appropriate technical modifications to help ensure such errors do not recur."
The spokesperson adds that Vestas takes safety "extremely seriously."
New & Noteworthy
Deepwater Focuses On Completing R.I. Demo Project
NAW_body hyperlink dept_byline NAW_body_i NAW_body_bi NAW_body_b_i NAW_body_b
NAW_first_graph
NAW_depbio
NAW_sub
NAW_last_graph
NAW_SH
NAW_SH_no_rule
NAW_SH norule
NAW_SH_norule
NAW_SH_first_item
pullquote
sidebar_headline